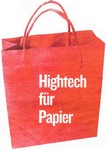 A new Christian Doppler Laboratory for Surface Science Investigations on Paper Strength will investigate the strength of fiber – fiber bonds in paper. The surface morphology as well as the surface chemistry will be investigated using a collaborative approach. The laboratory head is Prof. Robert Schennach from the Institute of Solid State Physics, Graz University of Technology. Close collaboration with Prof. Wolfgang Bauer from the Institute of Paper Pulp and Fiber Technology, Graz University of Technology and with Prof. Christian Teichert from the Institute of Physics, University of Leoben will enable a simultaneous investigation of the fiber morphology and the surface and interface chemistry. The industrial partner is Mondi Packaging in Frantschach.

Christian Doppler Laboratory for Surface Chemical and Physical Fundamentals of Paper Strength

Video from the ORF program Newton.

Hightech für Papier, Kleine Zeitung, 4 März 2007.

Papiersackerln unter der Lupe, Kurier, 4 März 2007.

Starke Fasern: TU-Forscherinnen und -Forscher prüfen Festigkeit von Papier

Was Papier stark macht, Siemens Hi!Tech magazin, number 2/2007.